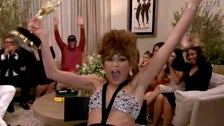 Euphoria does not even begin to cut it: Zendaya is officially an Emmy winner.
The 24-year-old made the story 72nd Annual Ceremony On Sunday night, she became the youngest winner of the all-time best lead actress drama series for her performance at HBO's Euphoria.
Killing Eve star Jodie Comer broke the record last year when she won the award at the age of 26, but now it's Zendaya's turn.
A stunning second night outfit, the Disney Channel alum almost collapsed when it was announced that it had beaten heavyweight Jennifer Aniston, Olivia Colman, Laura Linney, Sandra Oh and Comer.
Surrounded by friends and family, the radiant Zendaya spoke directly to her contemporaries in her reception speech as she was overwhelmed by emotions.
"I know it's a really weird time to celebrate," she said. "But I just want to say that the young people there have hope. I know our TV show doesn't always feel like a great example of that, but young people have hope. I just want to say to all my peers who work on the streets, I see you, I admire you, thank you. "
Her unexpected victory caused a stir on social networks as fans celebrated on Twitter.
Euphoria also won awards for great contemporary makeup and exclusive contemporary costumes earlier this week at the Creative Arts Emmys ceremony.
Call all HuffPost fans!
Sign up to become a founder and help set up another HuffPost branch