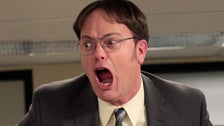 Wilson told the presenter of the "Late Late Show" broadcast on Tuesday James Corden that Dwight would have covered all the ridiculous conspiracy theories about COVID-19 – he would also have tried to develop his own vaccine and experiment with unsuspecting colleagues.
"Dwight would be fantastic during a pandemic," Wilson said. "You have Dwight to fight the pandemic, you have Dwight to create your own vaccine, your own antibodies, maybe to do secret research on people in the office."
"Conspiracy theories, it would be everywhere," the actor added. "It would be everything in the 5G camera towers and Hillary Clinton is everything you can imagine. It would be included in conspiracy theories. "
View the full interview here:
Head of the Coronavirus HuffPost
Everyone deserves accurate information about COVID-19. Keep journalism free of paywall and keep it free for everyone becoming a member of HuffPost today.