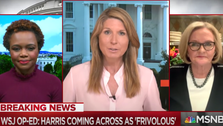 A controversial article An opinion writer for The Wall Street Journal, published over the weekend, patrolled a California senator who may have become the first black woman to serve as vice president for being "stunned" on the campaign path.
Noonan wrote, "She dances on the drum lines and starts rallies with Wassup, Florida! "She throws her head back and laughs with a loud laugh, especially when no one has said anything funny. She is a younger candidate in a younger vote, and she strives for a Happy Warrior mood, but she turns out to be insignificant, frivolous. When she started dancing on the rain scene, Jacksonville, Fla. Mary Mary Blige's Work That was a shame. "
Noonan noted that "apparently you are not allowed to say these things because she is a woman," and urged Harry to be more serious.
On Monday at MSNBC's "Deadline: White House," Wallace said he respected Noonan, a former speechwriter for President Ronald Reagan, but was completely disappointed with her words.
"When you're a white woman and a Republican, there are only certain things culturally that you don't know about Jack flashing, and you should close your mouth when other people …," she said.
"It made me feel deaf, uncomfortable, personal and sensitive," she added.
MSNBC policy analyst Claire McCaskill, a former Democratic senator from Missouri, said she "has never been more disappointed with a woman I thought I admired in my life."
"Well, I'll tell her what's embarrassing," she added. "A president who pays off for pornographic stars. A president who pulls babies out of his mother's arms. A president who says he likes to grab a woman knowing what. A president who uses the White House for campaign events. President praising white bosses. Yes, even a president who can't dance, can't show joy or empathy, and tries to make some kind of funny hand at the YMCA. That's a shame. "
McCaskill praised California senator Harris for saying "everything but shame" to her.
"She is uplifting, inspiring, strong and significant, and she will be one devilish vice president," she said.
"I've never loved you more," Wallace told her.
We want to know what you hear from the candidates on the spot. If you are interested – is suspicious! – Campaign senders, robotic calls, or anything else you think we should know should email us scoops@huffpost.com.
Call all HuffPost fans!
Sign up to become a founder and help set up another HuffPost branch