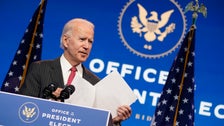 President Donald Trump continues to deny that elected president Joe Biden to win elections, more than two weeks after Biden delivered the victory speech.
Trump's legal team, led by Rudy Giuliani, suffered several major blows in an attempt to deprive voters of their right and overturn Biden's victory.
A Pennsylvania federal judge on Sunday dismissed Trump's lawsuit seeking to invalidate millions of votes on the main battlefield. Biden won Pennsylvania by more than 80,000 votes, according to early election results.
Trump's campaign on Saturday petitioned for a new recalculation in Georgia, which completed its first recalculation on Friday, reaffirming Biden's victory there. The presidential campaign is also being partially recalculated in Wisconsin.
Mr Trump is holding back the process of moving to the presidency by continuing to make unfounded allegations of voter fraud and vote-counting violations. Biden urged the Trump administration to share it coronavirus vaccine distribution plans, warning of a delay could lead to more COVID-19 deaths.
Read on for direct election updates below. (Note: Ad Blocker may prevent you from seeing your blog, so pause or turn it off if you use it.)
Call all HuffPost fans!
Sign up to become a founder and help set up another HuffPost branch