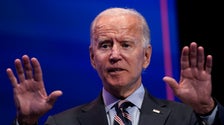 That's what the Democratic presidential candidate did on Wednesday when the president seemed upset about how things are going in America.
"They told the Democratic Congress that they would carry out a national mandate, "Trump told a voter when asked why he rarely wore a mask in public. "They never did that because they checked out and didn't. The good question is, you ask why Joe Biden – they said we would do a national mandate for masks. "
Of course, such an answer seems to ignore the fact that mandates are usually the responsibility of the CEO, the current Trump.
On Wednesday, Biden told reporters he was impressed that Trump would accuse him of failing to introduce a mask mandate.
Biden then tried to remove any confusion by whispering into his microphone, "I'm not president. He is president. "
Head of the Coronavirus HuffPost
Everyone deserves accurate information about COVID-19. Keep journalism free of paywall and keep it free for everyone
becoming a member of HuffPost
today.