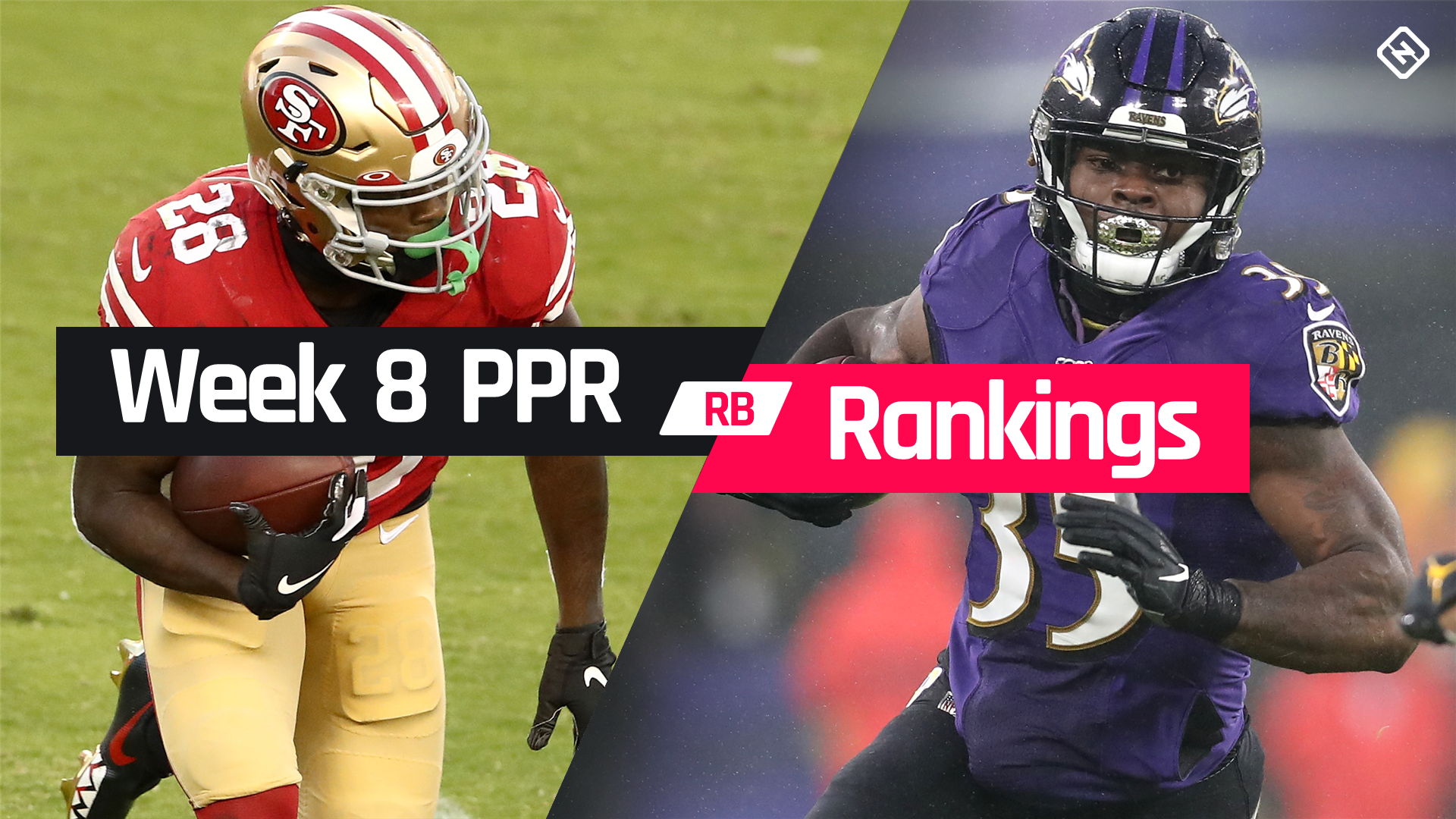 Last week was a big run for defenders who traditionally occupy a higher position in PPR leagues. Guys like Jamaican Williams, Giovani Bernard and Boston Scott took advantage of the injuries of Aaron Jones, Joe Mixon and Miles Sanders to declare solid days of fantasy, especially in the PPR leagues. Since all three leaders may be "questionable" in Week 8, these threats will be slightly higher in our Week 8 Fantasy RB PPR ranking, although at least a couple of tops will return to our ranking to start the week.
Our PPR ratings are also helped by the fact that guys like Dalvin Cook, Jonathan Taylor and Myles Gaskin are back to work again. The losses of David Johnson, Drake of Kenya, Chase Edmonds, James Robinson, Antonio Gibson and JD McKissico will be somewhat offset, but our PPR rating should be of sufficient value for fantasy owners to take advantage of, especially when Christian McCaffrey's return . from high ankle sprain.
WEEK 8 Standard ratings:
Defender | Running back | Wide receiver | Strict end | D / ST | Kicker
As usual, Williams (v. Vikings), Nyheim Hines (@ Lions), James White (@ Bills), Jerick McKinnon (@ Seahawks) and Corey Clement (v. Cowboys) see their values ​​rise in PPR degree of flexibility. formats this week, and Leonard Fournette (@Giants) also emerges after a week of six catches.
WEEK 8 PPR ADVERTISING:
Defender | Wide receiver | Strict end | D / ST | Kicker
Le'Veon Bell is also making an intriguing performance in PPR this week. The Chiefs are taking the Jets low, a revenge game for Bell that was released by the Jets a couple of weeks ago. At week 7, he did little, but he should be given an RB2 / flex value as he will be more comfortable in a managerial attack.
Players who move because they don't get a chance will include Gus Edwards (against the Steelers), Adrian Peterson (against the Colts), Frank Gore (@ Chiefs) and Latavius ​​Murray (@ Bears), though Edwards may still be worth starting if Mark Ingram (ankle) is out.
Reminder: As always, we expect to change these RB PPR ratings throughout the week, so check for updates. To perform an analysis of individual key CoRs, click here.
8-week Fantasy RB PPR ratings
These rankings are for full point PPR leagues.
| | |
| --- | --- |
| Rating | Player |
| 1 | Christian McCaffrey, CAR v. ATL |
| 2 | Dalvin Cook, MIN @ GB |
| 3 | Alvin Kamara, NE @ CHI |
| 4 | Aaron Jones, GB vs. MIN |
| 5 | Kareema Hunt, CLE and LV |
| 6 | Derrick Henry, TEN @ CIN |
| 7 | Jonathan Tayloras, IND @ DET |
| 8 | Todd Gurley, ATL @ CAR |
| 9 | Clyde Edwards-Helaire, KC vs. NYJ |
| 10 | Josh Jacobs, LV @ CLE |
| 11 | Ezekiel Elliottas, DAL @ PHI |
| 12 | Young Bernard, CIN vs. Ten |
| 13 | Myles Gaskin, MIA v LAR |
| 14 | Ronald Jones II, TB @ NYG |
| 15 | Darrellas Henderson, LAR @ MIA |
| 16 | Boston Scott, PHI and DAL |
| 17 | James Conner, PIT @ BAL |
| 18 | Melvin Gordon, DEN v LB |
| 19 | Carlos Hyde, SEA and SF |
| 20 | David Montgomery, CHI v. NO |
| 21 | Le'Veon Bell, KC and NYJ |
| 22 | Andre Swift, DET vs. IND |
| 23 | JaMycal Hasty, SF @ SEA |
| 24 | Wayne Gallman, NYG v. TB |
| 25 | Damien Harris, NE @ BUF |
| 26 | La'Mical Perine, NYJ @ KC |
| 27 | Gus Edwards, BAL v. PIT |
| 28 | Joshua Kelley, LAK @ DEN |
| 29 | Justin Jackson, LAC @ DEN |
| 30 | Devin Singletary, BUF and NE |
| 31 | Jerick McKinnon, SF @ SEA |
| 32 | Leonard Fournette, TB @ NYG |
| 33 | James White, NE @ BUF |
| 34 | Jamaal Williams, GB vs. MIN |
| 35 | UK Dobbins, BAL v. PIT |
| 36 | Zack Moss, BUF v. NE |
| 37 | Frank Gore, NYJ @ KC |
| 38 | Corey Clement, PHI and DAL |
| 39 | Adrian Peterson, DET vs. IND |
| 40 | Alexander Mattison, MIN @ GB |
| 41 | Malcolm Brown, LAR @ MIA |
| 42 | Nyheim Hines, IND @ IT |
| 43 | Mike Davis, CAR v ATL |
| 44 | Latavius ​​Murray, NO @ CHI |
| 45 | Dion Lewis, NYG and TB |
| 46 | Royce Freeman, DEN vs. LAC |
| 47 | Benny Snell, PIT @ BAL |
| 48 | Brian Hillas, ATL @ CAR |
| 49 | Mattas Breida, VRM vs. HEIGHT |
| 50 | Deejay Dallas, SEA and SF |
| 51 | Tony Pollardas, DAL @ PHI |
| 52 | Jeremy McNichols, TEN @ CIN |
| 53 | Rex Burkhead, NE @ BUF |
| 54 | Jordan Wilkins, IND @ DET |
| 55 | Jalenas Richardas, LV @ CLE |
| 56 | D'Ernest Johnson, CLE and LV |
| 57 | Kerryon Johnson, DET vs. IND |
| 58 | Darrell Williams, KC vs. NYJ |
| 59 | Travis Homer, SEA and SF |
| 60 | Anthony McFarland, PIT @ BAL |
| 61 | Camas Akersas, LAR @ MIA |
| 62 | Lynn Bowden Jr., MIA vs. LAR |
| 63 | AJ Dillon, GB v. MIN |