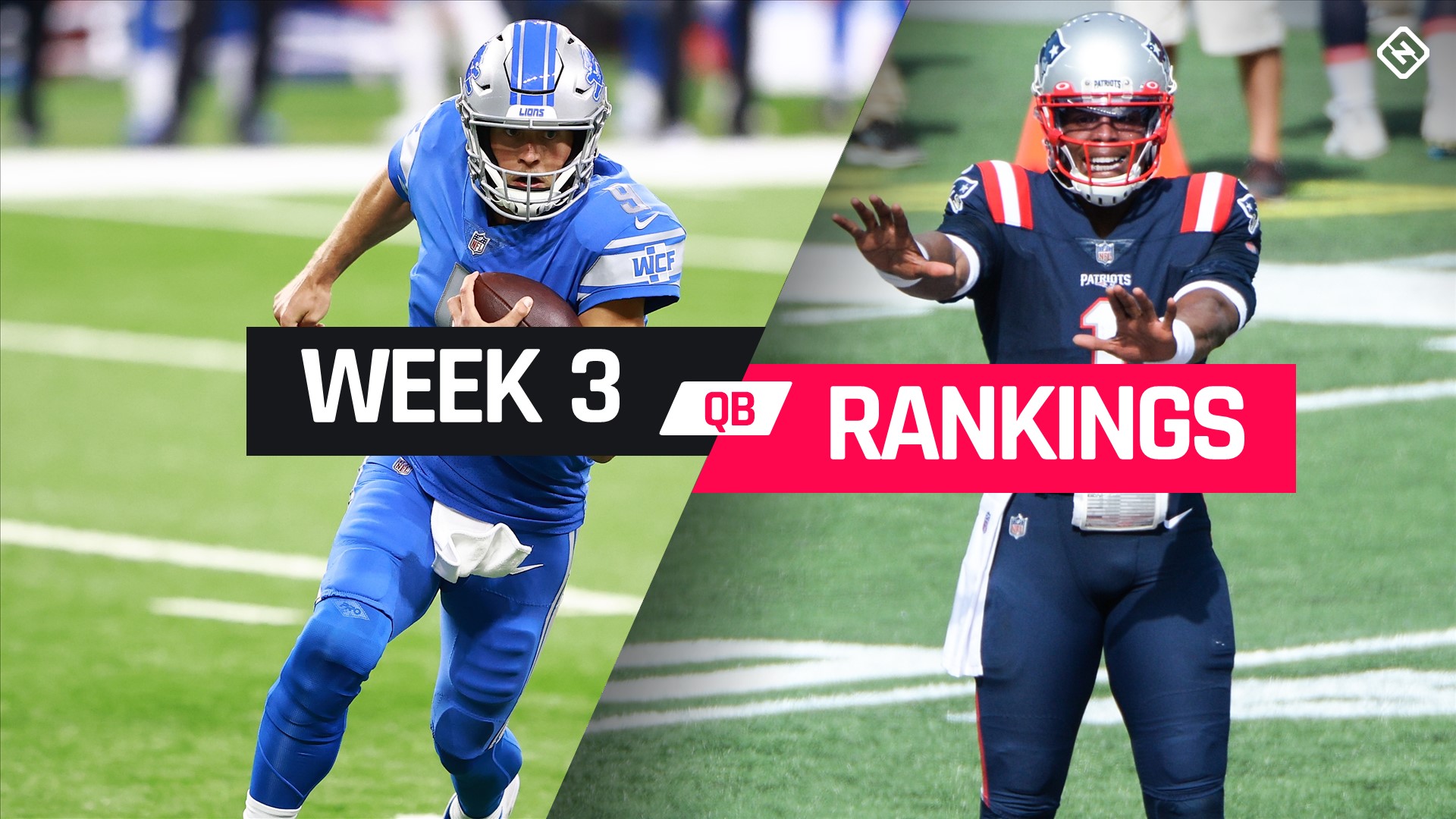 Last week was weird at virtually every level. Dhaka Prescott loved the rush of Ezekiel Elliotto. Both Drew Lock and Jimmy Garoppolo failed to complete their games (and Tyrod Taylor didn't even start it). Gardner Minshew and Josh Allen threw a ton of yards each, while Tom Brady's hot start in the last quarter and a half was followed by just over 20 yards passed. The big question in our 3rd week fantasy QB ranking is how much should we believe in the second week and how much just coincidence can happen in any particular week of fantasy football?
Brady is as good a start as any – he threw almost 200 yards and cruised in the first half, but a big advantage meant he slowed down and finished with 217 yards. Bruce Arians has a reputation as a "passing coach", but Brady had to start relying more on his running game. It could be years. On the other side, Teddy Bridgewater threw 367 yards, but didn't make two intercepted balls. No, you don't want Bridgewater to be above Brady, but it proves how the flow of the game can mean.
WEEK 3 STANDARD MODES:
Running back | Wide receiver | Strict end | D / ST | Kicker
One misconception worth getting rid of after the second week is the idea that Ryan Tannehill may not be a productive fantasy QB because the Titans are running too much. Numerous Sunday runs didn't stop Tannehill from throwing two or more taps in the ninth regular season match in a row (and in this case, he threw four taps). His upside may be less than that of a man like Jared Goff, who can throw 60 passes in a given week, but Tannehill deserves the attention of every starter of the week for his consistency. We'll also stop hating Matt Ryan's trash making because he also puts in a lot of games in the upcoming match (although he was helped by a great position on the field after the first three Cowboys shots).
WEEK 3 PPR ADVERTISING:
Running back | Wide receiver | Strict end | D / ST | Kicker
It was also gratifying to see how the Bengals allowed Joe Burrow to try more than 60 passes on Thursday night as they worked their way back. Obviously, the newcomer will be free to do his thing all season, and that includes the rush that makes him an intriguing fantasy. With 10 days in a row for the second time in a row, Burrow should appear ready in Week 3 to fight the Eagles' defensive defenses to date.
And we just want to remind you how good Killer Murray is. Hope you called the guy who can do it.
Justin Herbert was an unexpected starter at Week 2 when Tyrod Taylor (chest) sat on his side looking sad with the coaches around him. Who joins Chargers is at least noteworthy in the 2-QB / superflex leagues, but it will probably only be clear later in the week what it is. Herbert may actually be a more appealing game, showing that he can both run and quit at the start of his first career. If the word is Herbert will keep the job, it's worth grabbing even in one QB league with 12 or more teams.
We will have to watch for two significant injuries this week. Drew Lock was hit hard on the right (throwing) shoulder and didn't return to Sunday's game, and Jimmy Garoppolo didn't return after the half, playing most of the first half over the injured right ankle. Neither is worth starting in one QB league next week if they come back, but virtually every QB is important in two QB / superflex leagues.
Note: Come back all week as we continue to update our QB ratings right from the start, based on the latest news and injury updates.
These rankings are for TD leagues that are four points ahead.
# 2

Killer Murray, Cardinals

# 3

Russell Wilson, Seahawks

# 6

Patrick Mahomes, commanders

# 9

Ben Roethlisberger, Steelers

# 10

Ryan Tannehill, Titans

# 11

Deshaun Watson, Texas

# 12

Gardner Minshewas, Jaguars

# 13

Aaron Rodgers, Packers

# 14

Matthew Stafford, Leo

# 15

Tom Brady, Buccaneers

# 20

Mitchellas dating in Trubisky, Bears

# 22

Baker Mayfield, Browns

# 23

Justin Herbert, Chargers

# 25

Ryan Fitzpatrick, Dolphins

# 26

Dwayne Haskins, Washington

# 27

Bright cousins, Vikings

# 31

Teddy Bridgewater, Pantheros

# 32

Jeff Drisklas, Broncos