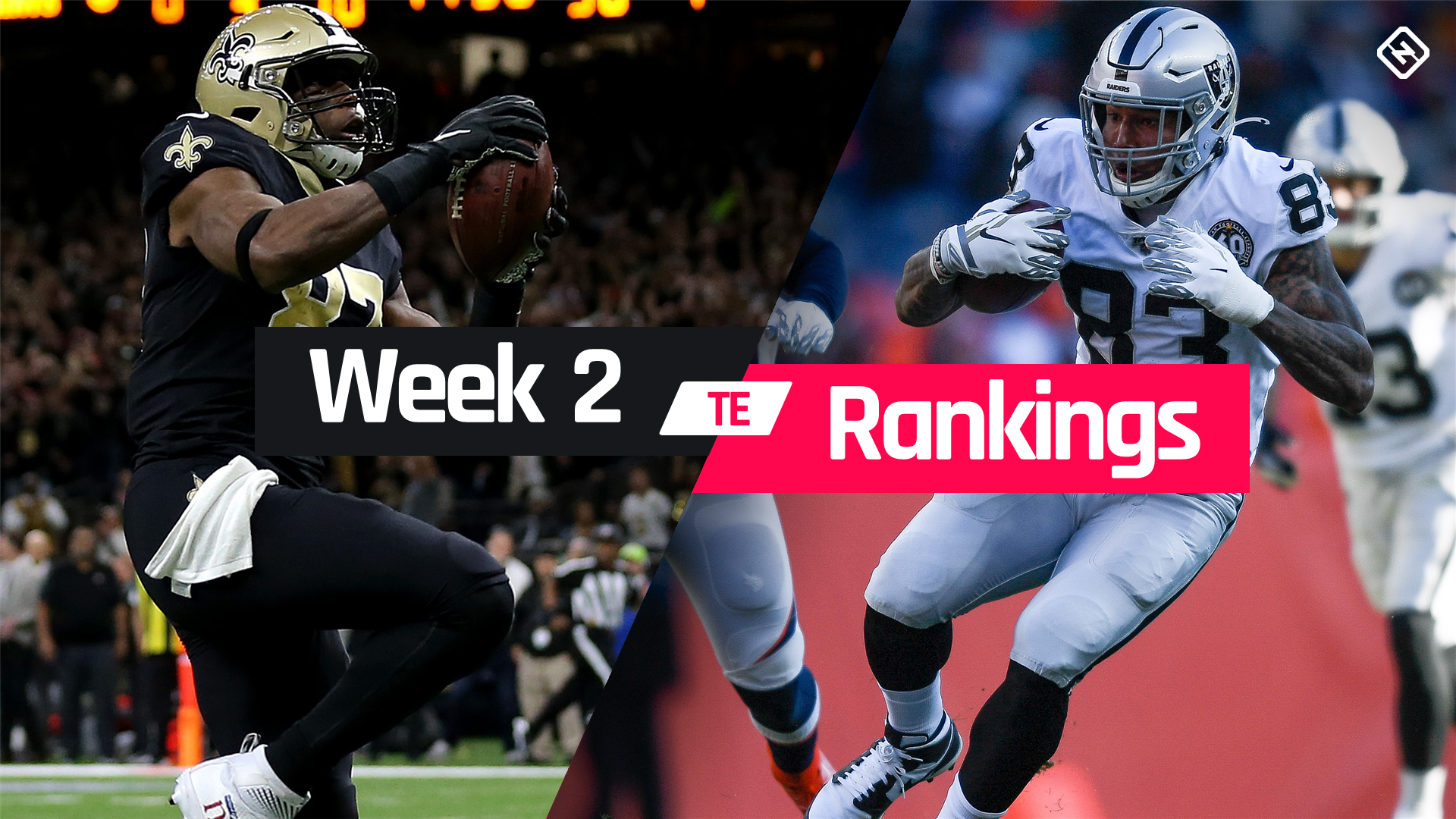 Tight end is traditionally one of the toughest positions in the opening week of the season. You have a handful of studs, but given the nature of the position boom or chest, coupled with a hard-to-design race, everything at the top is a guess. No matter how hard it is to rank this position in 1 week, it is even harder to make 2 week fantasy TE ratings. It's easy to overreact to what we saw at the opening of each team, both in terms of players / attacks and defenses.
Once two TEs have more than 80 yards (Dallas Goedert, Noah Fantas), it's hard to underestimate them, right? And when something like Hayden Hurst barely catches your eye before the game stops working, he has to quit, right? The same as Evan Engram, who runs just eight yards. If this type of game were to take place in week 7, we wouldn't be so quick to smear the eruption of one player and the bust of another, but when that happens in week 1, it's inevitable.
WEEK 2 STANDARD MODES:
Defender | Running back | Wide receiver | D / ST | Kicker
So, yes, we move Phant (@ Steelers) and Goedert (before Ramses) up, Hurst @ Cowboys) and Engram (@ Bears) down, but we don't overdo it. Everyone is still in the starter stage. We also do not react too strongly to the fact that Washington abandoned two TE landings in Week 1. A seasonal trend may begin, which will be complemented by Dan Arnold of Arizona this week, but until we get more data, we cannot yet recommend broadcasting TEs like Arnold vs. Washington.
WEEK 2 PPR ADVERTISING:
Defender | Running back | Wide receiver | Strict end | D / ST | Kicker
We know things will be leveled out in Week 2, but we still liked what we saw from Chris Herndon (vs. 49ers) and TJ Hockenson (@Packers), even if we didn't like their Week 2 match. On the contrary, we want to see more from Ian Thomas (@ Buccaneers) and CJ Uzomah (@ Browns) before we can recommend them what the match matches look like.
WEEK 2 NFL DFS TOURNAMENT LINES:
Yahoo | DraftKings | FanDuel
After all, it depends on how much you believe in the results of 1 week, and while the last row of statistics is definitely something we will do, we will continue to follow the precautionary principle and rely on some more proven talent / situations.
WEEK 2 NFL MFF MONEY LINE:
Yahoo | DraftKings | FanDuel
Note: We will continue to update our short rating list throughout the week, so check for updates.
WEEK 2 MFF: The best stacks | The best values | Lineup Builder
2 Week Fantasy TE Ratings (Standard)
These rankings are for non-PPR leagues
| | |
| --- | --- |
| Rating | Player |
| 1 | George Kittle, SF @ NYJ |
| 2 | Travisas Kelce, KC @ LAC |
| 3 | Markas Andrews, BAL @ HOU |
| 4 | Hunter Henry, LB v KC |
| 5 | Jaredas Cookas, NE @ LV. At Week 1, Cook saw seven targets and that number increased along with Michael Thomas (ankle). Cook should be particularly useful in the red zone, and Cook should be successful against the Raiders, who were one of the worst defenses against TE last year. |
| 6 | Tyleris Higbee, LAR @ PHI. Higbee caught three of the four targets at 40 yards, and while those numbers don't pop out, it's worth noting that Gerald Everett (his back) is down, which should mean more gaps for Higbee. Philadelphia couldn't cover Logan Thomas last week, so Higbee is in a good location. |
| 7 | Darren Waller, LV v. NO. Waller saw a large target portion at Week 1, seeing that Derek Carr tried to miss eight targets 30 times. His last line of statistics was not interesting (6-45), but such a workload will lead to bigger matches in the future. New Orleans had problems with OJ Howard last week, and Waller is even more consistent. |
| 8 | Zach Ertzas, PHI and LAR. In Week 1, Ertz was well surpassed by Dallas Goedert, but he still had seven goals and scored. The rams are soft in the middle, and Carson Wentz is unlikely to have much time to throw deep, so Ertz is playing as the main target this week. |
| 9 | Jonnu Smith, TEN v. JAX. Smith is usually a big gaming machine that showed he was able to make money on the goal line last week as well. Jacksonville did a good job against the harsh Indianapolis classes last week, but it's still a vulnerable defense that will score a lot of points this week. Keep Smith in your lineup. |
| 10 | Evan Engram, NYG @ CHI. On Monday, Engram didn't look at all like interrupting the route with a reliable TD, dropping a wide open pass and once again convincing the offensive pass to interfere with another potential winner. The good news is that he had those opportunities in the first place, and if he managed to get along, he could easily be on the right outing against the Bears. In Week 1, Daniel Jones looked tough against a tough defense (without an intercepted goal line), and Chicago is more vulnerable than you might think. TJ Hockenson caught all five of his targets for 56 yards and TD last week, so Engram will have room to act. |
| 11 | Dallas Goedert, PHI vs. HEIGHT. In Week 1, Goedert was the only tough post over 81 yards, making it a popular performance this week. There is good reason to expect another good performance against the average Rams LB / DB hull, but it is clear that another 101 yards and a TD are building the cartel too high. Goedert has rarely been consistent in his career, but is now finding it difficult to back down. |
| 12 | Noah Fant, DEN @ PIT. In Week 1, Fantas showed his great playing ability, scoring five out of six targets and a score for 81 yards. His attitude may change if Courtland Sutton (shoulder) or even KJ Hamler (shoulder) returns, but he still stands out with a high game against the Steelers' defense, which had to score a lot more points for the similarly skilled TE 1 (Evan Engram) in a week. |
| 13 | Hayden Hurst, ATL @ DAL. In Week 1, Hurst got into a tougher match than expected as the Falcons' wide receivers raged against the corners of Seattle and Atlanta's new TE remained in the rubbish. The Cowboys did a great job against Tyler Higbee, although he didn't seem to be a big part of the Rams game plan. With Leighton Vander Esch (neck) coming out, the middle of the square should be even more open to Hurst. |
| 14 | TJ Hockenson, DET @ GB. Hockenson took advantage of Kenny Golladay's club injury injuries to get a red zone target and a touch he couldn't necessarily get. Either way, he takes risks until he proves he isn't. It started last year when he missed a few games a few weeks after the huge 1st week. |
| 15 | Erikas Ebronas, PIT v. . Ebon did little on Week 1, but Denver had problems with Tennessee's TE (7-42 and two TDs) last week. He will always threaten a big game / red zone threat, giving him a lot of sleep value regardless of the match. |
| 16 | Jack Doyle, IND vs. MY. Doyle started strong but slowed sharply in Week 1. He is still a popular target for Philip Rivers, and against the Minnesota defense, which fought hard for 1 week (allowed 364 to pass yards), Doyle should be in line for a better day. |
| 17 | Austin Hooper, CLE and CIN. No David Njoku (road) should help Hooper, but it's hard to believe him or Baker Mayfield against anyone. At Week 1, Cincinnati had a problem with Hunter Henry (5-73), so Hooper has slightly higher sides, but we need to see more of him on his new team than the two targets. |
| 18 | Rob Gronkowski, TB v. CAR. Gronkas played more than expected in Week 1, but with just two catches, three targets and 11 yards, it's hard to count him against Carolina's defense, which turned out to be a good defense for TE. Gronko has always been able to score, but OJ Howard is a higher level game. |
| 19 | Mike Gesicki, MIA v BUF |
| 20 | OL Howard, TB v. CAR |
| 21 | Logan Thomas, WAS @ ARI. Thomas should probably be ranked higher after eight targets and a 1-week TD, but in dealing with a man like him and Dwayne Haskins – on the road to a decent defense – it's hard to be overconfident. Of course, Arizona was historically bad against TE last year, so even after a decent 1 week before the death of George Kittle, Thomas is a solid option for a boom or bust. |
| 22 | Ian Thomas, CAR @ TB |
| 23 | Taysom Hill, NO @ LV |
| 24 | Jimmy Graham, CHI v. NYG |
| 25 | Chris Herndon, NYJ and SF. We like seven Herndon targets from week 1, but we don't like this week's match or its insult. |
| 26 | Dan Arnold, ARI vs. WAS. Washington struggled with TE for 1 week, but this contradicted a qualified Philadelphia duo. In Week 1, Arnold had only two targets, so we can't recommend him in season leagues yet. |
| 27 | CJ Uzomah, CIN @ CLE |
| 28 | Greg Olsen, SEA and NE |
| 29 | Kyle Rudolph, MIN @ IND |
| 30 | Jordan Akins, HOU and BAL |
| 31 | Irv Smith Jr., MIN @ IND |
| 32 | Tyler Eifert, JAX @ TEN |
| 33 | Dawson Knox, BUF @ VRM |